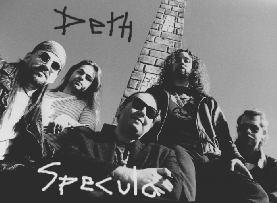 ---
August 23, 1994
7:30 - 8:15 PM
As Deth Specula plays live at the SCO Forum, we at IUMA will be recording their music live, transferring it to MPEG, and posting it here on this site.
Even though the show just ended a while ago, we will continue to update this page with MPEG audio files of the songs they performed as the MPEG conversions are completed.
To go along with this, we will also be broadcasting their music live over the MBONE. If you can tune in, do so. This will be a LIVE performance straight from Santa Cruz!!!!
All the images found on this page were captured from the live footage of the concert as it was being broadcasted across the Internet.
---



---
Songlist:
Internet Band (plus intro)
Unix Bugs
Speaking Legalese
Get Even More
I Wanna Be Updated
Careening Continental (7MB)
Anarchy At SCO (original MP2 or new MP3)
The Players:
The Band
Tim E. Rotarian - lead vocals
Kozmo - rhythm guitar, vocals
Malcom McCameron - lead guitar, management
Yam - bass, vocals
Rastro - drums
Sharky - the mystery 5th, 6th and 7th speculoid
The Deth Specula and IUMA Crew

Show Liason


Kris Davis / krisd@sco.com

Audio/MBONE Encoding


Eric Davis / ericd@classified.com
Sound and MBONE broadcast
Jeff Patterson / mugly@iuma.com
Schlepping the video and audio data and generating HTML
Jon Luini / falcon@iuma.com
Coordinator and headless chicken running
Glenn Smith, Audio and Video snapshots

SCO / Alternet Networking

Mike Thornburgh / zenomt@armory.com

IUMA Assistance

Lynda / confer@iuma.com
IUMA Info Magnet
Neil Magedman / cumquat@iuma.com
IUMA Tech-dude

Video


Steve Marino / stevem@sco.com
Video Director
Jan Dwyer / jand@sco.com
Camera Operator
Alice Liu / alicel@sco.com
Camera Operator

Lighting


Jason Abbot / jasona@sco.com
Keith Reynolds / keithr@sco.com

Effects


Seth Katz / seth@barn.com
Fog Meister
Evan Hunt / evanh@sco.com
Lyrics Projection

Road Crew and All-Around Saviours


Tammy Rahn / tammyr@sco.com
Richard Trivitt
Donna Karolchik / donnak@sco.com
Karim Kashani
Guitar Tech
Keep checking this page for a more detailed story about all of the trials and tribulations it took to get this entire project to actually happen.
---

at SCO Forum brought to you by