Deth Specula Bio - Malcom McCameron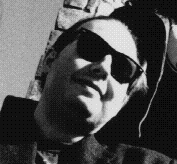 Malcom plays guitar. He has a friend who comes to Specula gigs and yells
"Guitar machine! He's a guitar machine!"
Malcom likes his friend even though he's not sure what exactly is a "guitar machine."

Malcom also herds the band. He does not manage the band. He herds it. It's like herding cats. Malcom doesn't mind.

Malcom lives with the rest of the band in Santa Cruz, California. Surf's up. Malcom doesn't surf. The band doesn't actually all live together, unless you count living within a 20 mile radius as "together." Malcom is anally expulsive and doesn't believe the Warren Commission Report.

Malcom wrote a few of the Specula songs, like Careening Continental and Killing Machine. Malcom enjoys strange music, like Negativeland, Skinny Puppy, King Crimson, Spike Jones, and Primus. Malcom also enjoys normal music, like Anthrax, Spin Doctors, the Stones, James Brown, Madonna, Depeche Mode, Black Flag, Hank Williams, Sr., Frank Sinatra, the Police, (early) Linda Ronstadt, Blind Melon Lemon Chittlin Head, Leo Kotke, The Beatles, Ice-T, Warren Zevon, Ledbelly, Bad Company, De La Soul, Duran Duran, Van Halen/Hagar/Roth, Robert Johnson, Glen Miller, Yes, Muddy Waters, Led Zepplin, Ultra Vivid Scene, Digital Underground, and more.

Malcom does some things besides play music. He likes to play paintball (has an Automag), ride his bicycle (MTB), smoke cigars (Arturo Fuente, Dunhill), backpack (in the Sierras), and shoot firearms (trap and target). Malcom is a lacto-vegetarian. Malcom's sainted mother denies he was ever dropped on his head as a child.

Malcom's favorite fiction is "Neuromancer," followed by Bradbury's "Martian Chronicles." Mostly, though, Malcom likes non-fiction. Latest book read is "Pity the Nation," by Robert Fisk, about the Lebanese war.

Malcom's favorite movies are "Spinal Tap," "Tampopo," and "Casablanca." Just about any Bogart movie is sure to make Malcom smile.

Malcom wishes John Krisfaluci hadn't blown chow and been forced to give up Ren N' Stimpy. It used to be good, but without John R&S suck. Malcom also wishes someone would send him a copy of Tank Girl. A scanned GIF of one page would suffice. malcom@entropy.wpd.sgi.com. Malcom really likes Sam and Max. Malcom and his friends, the Chunkstylers, like to play Fizzball.

One day, Malcom hopes to open a donut shop somewhere like NorCal, Oregon, or Washington. In the mean time, he is content to earn a living writing computer manuals and play guitar in Deth Specula.
---

Return to Deth Specula Bio.
---
Deth Specula Bio - Malcom McCameron